"Children are God's apostles, day-by-day sent forth to preach of love, and hope, and peace."

— James Russell Lowell
Apostles Community Preschool was founded in 1965 by Church of the Apostles, United Church of Christ, as an outreach to the surrounding community, to assist parents in the rearing of young children. Now, 52 years later, it continues its mission to offer a loving, caring, high-quality educational experience for children ages two through five.
Located in the Hempfield School District, ACP offers classes from one to five mornings a week, from 9:00 – 11:30am. Along with our traditional classes, we also offer one Pre-Kindergarten class from 9:00am -2:00pm.  A daily Lunch-Bunch is available to extend your child's day until 12:30pm. Additional after-school enrichment programs are offered on Mondays and Wednesdays, from 11:30am – 2:00pm.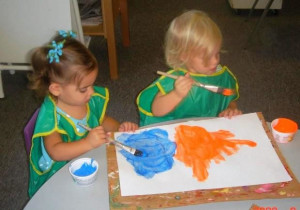 Our staff exceeds the state requirements for early education teachers, with all of our teachers holding B.S. or M.S. degrees in Early Childhood Education, Elementary Education, Special Education, or Social Work.
Our facilities offer bright and colorful classrooms, a music room, library, large carpeted gym, and outdoor playground. In addition, Rader Park, located on the church campus, provides an outdoor nature study area, perfect for nature walks and our annual Summer Camp.